Sep 10, 2015
Cue the confetti, pop the champagne: It's my 400th blog post!! And it comes with a SPECIAL GIVEAWAY!!
For those of you keeping track, I just celebrated my fourth blog-aversary. That means I've written pretty close to 100 blog posts a year, or one every 3.5 days.
A blog post starts with an idea, which always comes to me when I'm away from my computer. If I specifically brainstorm for blog posts, I usually come up with a nugget or two. The best ideas, though, just come in a flash when I'm not thinking about the blog at all, like this one inspired by my grandfather's old workbench. 
Then I make a brief outline for the post, which I use to start fleshing out the piece. Some blog posts are written over several days, tweaking a little each time. My favorites are written in a mad dash at one sitting, because those are the ideas that truly excite me.
(Still waiting for that SPECIAL GIVEAWAY? It's coming!!)
I almost never publish on the same day that I've written the post anymore; that was a rookie move from my blogger days, but since I've gotten WordPress I've taken full advantage of the scheduling option. I also like to let my posts sit for a day or even just an afternoon, so I can read through them one more time before publishing and tweak if needed. The final part is the formatting, a multi-step process that includes finding and inserting the right picture, adding keywords and setting up for SEO (search-engine optimization).
Sometimes I ask myself why I blog, when it's never going to make me money, and takes time away that I could be spending on paid projects. A big part of it is community-building; I've met many wonderful readers and writers through this blog, and hope to meet more. It also gratifies me to hear that a post I've written has influenced someone in a positive way. And it's a platform to show potential agents and editors that I'm a serious writer.
But the main reason I blog goes back to those 400 posts. That's 400 ideas that I've thought up myself and successfully communicated to others. That's 400 times I've gotten to practice nurturing my own voice and writing nonfiction pieces. I definitely wouldn't be the writer I am today without this blog, and I know it'll continue to make me better as I look another 400 posts ahead.
And now for the FREE gift! I'd like to send one reader a copy of one of my favorite books, A Beginning, A Muddle, And An End by Avi.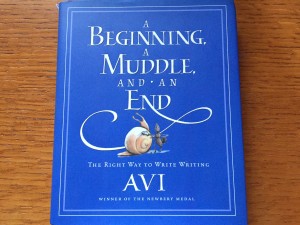 This whimsical parable is for writers of all ages, from children through adults, so it's a wonderful book to read, share and inspire.
To enter, please sign up for the blog via email, using the subscription box right on the top of the website. I went back to my old subscription service, which doesn't send out newsletters but does email new posts to subscribers. With the subscription service, Words From The Sowul can come right to your inbox, so you don't have to remember to look for new posts. (The newsletter is going on temporary hiatus until the program I really want to use is updated for my version of WordPress.)
All subscribers will be entered to win the book, including those who are already subscribed (thank you!). The drawing will take place on September 23, 2015. I will let the winner know via email, so please make sure to subscribe with an email address you use regularly.
(Please note that I will only ship the book within the U.S. If you're an international reader, you're of course welcome to subscribe, but you won't be eligible to win the book. Family members are also ineligible. Sorry, Mom.)
Enter your email NOW to win a copy of this wonderful book! And even if you don't win, you'll still get the benefit of blog posts delivered right to your inbox.
Time to get started on my next 400!
3 Responses to "400th Blog Post AND A GIVEAWAY!"