Welcome to the next installment of "What's Making Me Happy," a monthly series about the things that are brightening my life! And boy, does it need brightening this month. I need pepping up every time I turn on the news or look at social media.
I couldn't live without my… Himalayan Salt Lamp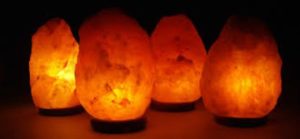 I recently moved this lamp from the living room to the bedroom. In the living room, I'd thought I felt a difference in my levels of calmness and focus, but I wasn't sure. But the difference in the bedroom was immediate and definite. I wake up feeling so much more refreshed, as if there's more oxygen in my lungs (and I suppose there is, or at least cleaner oxygen). I highly recommend these lamps for– well, everyone, but especially those who have issues with sleeping, anxiety, depression, or a lowered immune system.
Funny story about how I obtained the lamp. A few weeks before Christmas, I emailed my husband an article I'd read about the benefits of salt lamps, and asked for his opinion. He never wrote me back, which was unusual, but we were both very busy, so I didn't press him. On Christmas morning, the first package I opened from my husband was the salt lamp! He'd bought it before I'd even heard of them and was afraid to write me back in case he gave the surprise away.
I'm luxuriating in my… Origins face cream and wash.
I discovered Origins over the summer when my usual Korres night cream went way up in price. Origins is much cheaper and I love it even more. Every product I've tried has been amazing. I love the citrusy smell of the day cream, the silkiness of the night cream, and the perfect amount of foam in the face wash. I've also tried a charcoal face mask in a sample package, and it made my skin feel amazing. Treat yo'self! [Read more…]