Today I'm linking up with my friend Sara Letourneau for this installment in the "What's Making Me Happy" series. Hop on over to her list when you're done reading here! This month, I'm going with a Christmas theme.
I'm loving… our new Advent calendar.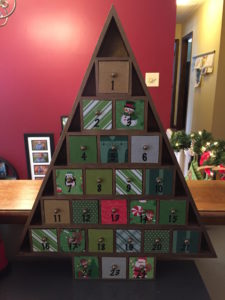 I bought this one from an Etsy shop just before Thanksgiving. I loved the idea of a countdown to Christmas, but wanted something different than the paper calendars that disperse bible verses or pieces of chocolate, or even the "book a day" system I've heard about. In each drawer, I rolled up a piece of paper with a typed message from one of Santa's elves. The messages say things like, "Wear your Santa hat to school today!" or "Take a car ride to see Christmas lights," or "Do something kind for a loved one." Some of the boxes also have candy in them. Edwin loves opening them every morning, and he's been enjoying almost all of the messages. I'm taking note of the responses so I can curate for next year.
I'm also doing this in lieu of Elf on a Shelf. [Read more…]