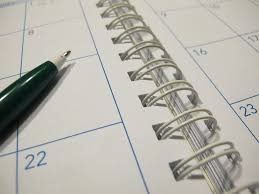 In 2017, as in any other year, there are many things I want to accomplish. Last week, I posted my list of goals for the year. Those are big-target goals: abstract ideas, not concrete plans. How do I accomplish them, particularly as my schedule will be wildly different throughout the year? Right now, I'm home with my newborn daughter, and my husband and son are out of the house most of the time. In the summer, we'll all be home together. In the fall, I'll be returning to full-time work. I need to make plans to suit all of those lifestyles.
Here's how I made those big-target goals into concrete plans that I can accomplish as daily tasks.
Break goals into seasons.
This winter, I will be at home with Eleanor, and she's still sleeping a decent amount during the day, so I'm going heavy on the writing plans.
Health/Fitness:
Exercise 200+ minutes per week, including getting back to my favorite Step class at the gym, and joining Mommy and Me yoga
Cut back on sugar by giving up dessert 6 days a week
Writing-Content:
Work on second draft of BLIZZARD
Write 1 personal essay or short story every month
Submit to at least 6 publications or contests every month
Writing-Community:
Finish the DIY MFA "Pixels to Platform" course
Post on blog at least 5 times per month
Edit my website to show more of my writing credits and reading recommendations
Start a newsletter (for reals this time)
Promote other writers' work on Twitter and comment on blogs every day
Reading:
Read for the MMD ("Modern Mrs. Darcy") book club and participate in the discussions
Do the MMD 2017 reading challenge, "growth" track
Family:
Plan Eleanor's baptism
Go to church regularly; start Edwin's religious education
Home:
Continue organization projects around the house
Make soup every week