Now that I have 40-60 minutes of commuting every workday, I'm getting through more audiobooks. I have a different set of criteria for books I listen to, compared to the ones I read. They can't be anything too heavy, requiring intense focus: that leaves out anything literary or biographical. I usually stick to lighter women's fiction, pop nonfiction, and the occasional thriller. I also listen to books I've already read so that I'm familiar with the story if I lose the thread while driving. A well-performed audiobook can be an entirely different experience; for example, while the purity of reading Harry Potter myself can never be topped, I also adore being read to by Jim Dale, a vocal master.
That said, I only have four new books on my list this month, because I've been doing a lot of re-reading, both in audiobook form and at home. Re-reading is my comfort food, and while things have been going quite well at work and at home, my brain is more tired than usual, and I'm craving the chocolate of comfort reading.
I've been reading rave reviews about Jojo Moyes for awhile, and finally decided to dip my toes in with this one. I will, without doubt, be seeking more of her books in the near future. This book was delightful and poignant at the same time; a tad unrealistic in spots, but compensated for with incredibly three-dimensional characters. The theme relies heavily on the constant terror of living in poverty, and that was thought-provoking for me.
You might like this book if you enjoyed… The Casual Vacancy by J.K. Rowling.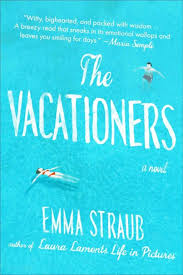 The Vacationers by Emma Straub
I wasn't a big fan of this book, sadly. I expected to like it, when it was recommended to me by Amazon as a kin to Elin Hilderbrand's beach books. (Note to Amazon: A vacation-like setting is not enough of a common denominator.) But while all of the Vacationers were unique, with plenty of foibles and conflicts, I didn't find any of them likable enough to keep me caring about their futures. I only finished it because I didn't have anything better to read at the time.
I think my main problem with the book was that I don't prefer the "omniscient" point of view, where the author narrates by zooming up close to each character in turn, as the story dictates. I prefer a perspective that stays with one character for at least a chapter, so I can get to know that character better. Continue reading