I've been working on upping my writing productivity this summer. It's a necessary focus, what with completing draft 1 of my novel, posting fifteen blog posts and two newsletters a month, and managing social media for two websites. If I want to continue on that ambitious path, I need to be super-organized, and I need to feel confident that I can hit my goals monthly, weekly and daily. So at the start of the summer I re-read a book that inspired me to better productivity last fall: Write Better, Faster by Monica Leonelle.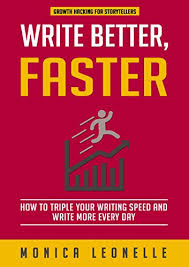 While I don't subscribe to all the tips Leonelle documents in the book, I have used a few of them to great effect. She claims to be able to double or triple your writing speed and output, and I have found this to be possible. That doesn't mean that I am producing consistently high word counts every single day, or that I don't sometimes take a backward step on process. But I have found three tips that have significantly increased my writing productivity, and I'd like to share them with you here. They all start with the letter "P!"
(If you'd like to explore the topic further than this post, I encourage you to
read Leonelle's book
; it's a good price in the Kindle store.)
1. Planning.
I thought I was doing a decent job at this before, but I've really upped my game on the planning end and seen huge results. I used to make planning part of my writing sessions; I'd jot down notes for a few chapters ahead in my novel at the end of a session, or add a new post title to my blog's editorial calendar. Now I set a specific time, apart from my writing time, for planning. Every Sunday, I make sure that I've plotted at least ten chapters ahead of my novel's current location, and every two weeks, I plan blog posts for the following two weeks. (I also have a posting "formula" that helps with this process for
The Creativity Perspective.
) I can't even tell you how important this planning time has become. I now sit down and can immediately start writing, without second-guessing the topic or having to think about the novel's structure as a whole. This one productivity tip really did increase my word count by about 40% per session.