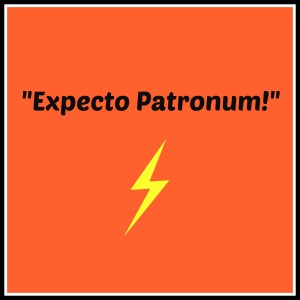 Last spring, I wrote a post called The Lesson of the Boggart. It was one of the most popular posts from my Blogger days (I switched to self-hosting on WordPress shortly thereafter) and one of my personal favorite book-centric posts. In the post (which I hope you'll read) I wrote about the genius of J.K. Rowling, using a dark creature to symbolize fear, then creating a spell to vanquish that fear with laughter and comic imagery. There are many of these symbolic life-lessons hidden in the Harry Potter series. One of my favorites? Expecto Patronum!
A patronus is a spell cast to fight the effects of dementors, the darkest creatures in Harry Potter's world. It requires the caster to summon an image of happiness, then project that happy feeling through the spell Expecto Patronum, which creates an etherial creature to expel the dementor, even while the dementor is working to drain all happiness from you and ultimately to suck out your very soul. Expecto Patronum is an important weapon in Harry's arsenal; he and his friends wouldn't have survived past book three without it. It's a difficult spell that needs a lot of magic behind it, but the key is that happy thought, which has to be powerful enough to fight the overwhelmingly powerful dark creature. Many times in the series, Harry was unable to summon a happy enough thought at first, and it nearly killed him.
We don't live in Harry Potter's world, and we don't battle dementors on a regular basis, but we do battle different dark creatures. National tragedies: gunmen in schools, destructive hurricanes, terrorism. Poverty. Lack of resources. War. On a personal level: Depression. Negative body image. Physical and emotional abuse. The list goes on; all, like Harry's dark creatures, are rooted in fear. How do we, as individuals, combat them? What happy talisman do we carry inside us, ready to be summoned, ready to save us?
In other words, what's your patronus? Continue reading