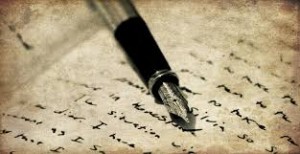 I've had a relationship with Writing for most of my life.
I was formally introduced to Writing in kindergarten. I learned about her, letter by letter, and I understood her mentally, but sometimes our physical relationship struggled as my 5 year-old hand shook and cramped, holding the pencil over the special dot-dash paper.
As I grew, Writing became something I needed to convey my thoughts in school. I used her to tell my teacher what I wanted to be when I grew up (at the time, a restauranteur), to organize all the information I'd learned about mourning doves, and to express myself in letters to friends and cards to family. I liked Writing about those things, and my ability to do it well made me feel "good at school," but I never considered spending much personal time with Writing.
In middle school, my maturing thoughts and feelings became too mixed up to straighten out in my head, so I turned to Writing to help me untangle, grow and become who I wanted to be. I wrote big, in sketchpads with colorful markers. I chronicled my life. Sometimes I thought about using Writing to tell the stories I made up in my head- my "imaginings," as I called them, in homage to Anne Shirley. I'd start a story now and then, but I didn't understand enough about the art of storytelling to continue them. Writing and I were personal friends, but I wasn't ready to take it to the next level. Continue reading